Social Media Agency Meaning
A social media agency is a company that specializes in the use of social media to promote brands and products. They plan, create, and execute marketing campaigns for their clients.
To be successful, a social media agency needs to have knowledge of different platforms and how they work. They also need to be able to track analytics and measure the success of their campaign.
Social media agencies are in high demand these days. We offer a variety of services to our clients, such as social media strategy, content creation and management, advertising, and analytics.
Social Media Agency near Me
A social media agency is a company that specializes in social media marketing. It's important to note that you don't need to be near the company for them to do their job.
Digital agencies are now more accessible and affordable than ever. With remote work opportunities, you can work from home or anywhere with an internet connection.
Social Media Agency in Egypt
Social media has become an integral part of our lives. It's a place where we can share our thoughts, opinions, and even our emotions with the world. It's also a place where we can connect with people from all over the globe.
As social media becomes more and more popular, it's also becoming more important for businesses to have social media agencies to help them manage their accounts.
A social media agency is a company that provides services to clients to help them market their products or services through social networks like Facebook, Instagram, Twitter, and LinkedIn. The main goal of these agencies is to increase the number of followers they have on these networks to create awareness about their brand or product.
As a leading social media advertising agency in Egypt, we promise that you will get more qualified leads. Organic and paid. Ready to connect? Join us and grow with us as we deliver what we propose.
We have a catalog of multiple ideas and plans. We also offer great rates and presentations, which will stick out among others in the market.
We specialize in managing the social media accounts of companies and individuals. With our expertise in professional content writing, we understand how to give customers a unique touch.
We have been very successful in providing content for our clients, by making sure that we have a good understanding of their needs and knowing what they want to see on their social media pages. We also make sure that we are constantly creating new content so that there is always something new coming up on the page.
Social Media Management Key Factors
Social Media Marketing Agency average prices are usually affected based on the below key factors:
Company Experience
Existing clients
Number of Posts
Industry experience
#Numbers of social media
Custom vs. Template posts
Replies "Community Management"
TAT – turn around time for creatives
Flexibility – number of revisions
You can take the 9 same points above as steps to select the company that will handle your social media.
Our Agency Experience
Our social media agency in Egypt experiences expanding the consumer base by getting and maintaining the right buyers. We also have a huge experience in running paid social media campaigns and can assist you to boost your promotion ROI. We've always done our social media marketing in-house at Green Mind Agency, so it's easy for us to speed communication between you and us.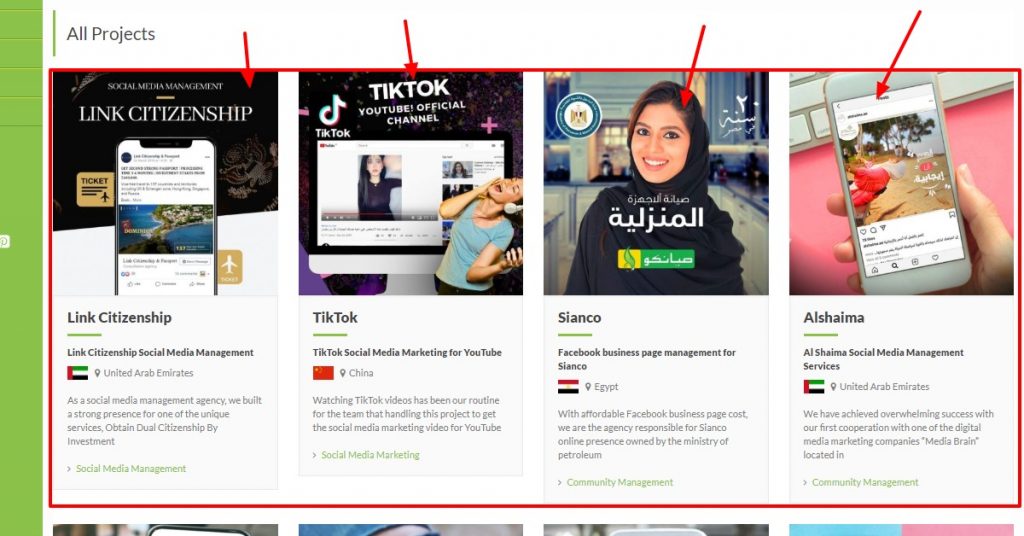 Existing Client's
This is something really important to check the current and old client's that agency worked with, requesting a client list of contacts to get feedback is also can add value, At Green Mind agency we provide that list usually at the start of the project.
Social Media Agencies Still Viable
Social Media management is not easy and it's important today, a lot of complicated tools and requirements are in there, and remember your time is available and you can't stay the whole day thinking about creating content, or marketing strategy or how to optimize the campaign, that means social media marketing agencies still a viable option for your business.
Social Media Channels Winning Campaigns
Our social media agency in Egypt creates a Social Media Marketing Strategy first, then launches winning campaigns through Facebook, Instagram, Linkedin, Youtube, Twitter, Snapchat, and Recently TikTok. The Social Media market is fiercely competitive but our specialists know how to creatively design and implement content that can sharply target your audience by driving awareness, engagement, and conversion with your brand.
Social Media Packages
Social media packages in Egypt start from 12,000 L.E. per month and they can reach 28,000 L.E. per month based on requirements, there's no concrete source of that but based on our research and communications. the average is always relying on business requirements, all prices based in Egypt.
Social Media Management Prices
780$
or 12,000 EGP
PER MONTH
8 social posts per month
2 custom resize for stories per month
GIFs, 360°, and Report
1 Language
Facebook and Instagram
Replies for pages lower than 250K fans
Without Replies 520$ or 8,000 EGP
Start Now
1160$
or 18,000 EGP
PER MONTH
8 social posts per month
4 custom resize for stories per month
GIFs, 360°, 4 SlideShow Video, and Report
2 Languages
Facebook, Instagram, and Linkedin
Replies for pages lower than 500K fans
Without Replies 780$ or 12,000 EGP
Start Now
1740$
or 27,000 EGP
PER MONTH
12 social posts per month
6 custom resize for stories per month
GIFs, 360°, 6 SlideShow Video, and Report
2 Languages
Facebook, Instagram, Twitter, Youtube! and Linkedin
Replies for pages lower than 1M fans
Without Replies 1160$ or 18,000 EGP
Start Now
Advantages of Hiring a Social Media Agency
Social Media is the new face of marketing. It has a positive impact on brand awareness, customer engagement, and increased revenue. With the help of a social media agency, you can get your voice heard in the digital world and reach out to more people.
The advantages of hiring a social media agency are:
Reach more customers
Gain competitive advantage
Save time and money
Why Choosing Our Social Media Agency
Our capabilities in social media marketing are considered the strongest in Egypt, our agency is known in Egypt for speed and for providing the best community management, and we believe that you will consider more and more development from us in the field and leave an influential footprint in this field.
The number of marketing agencies in Egypt is quite large, grow your business through our social media marketing services and you will reach the highest rate of reaching your potential customers, we support you in all aspects of creating great ideas.
Latest Articles Related to Social Media
Latest Projects from Our Work