Creative Agency Definition
When we hear the term 'creative agency', we often think of creative directors and designers, but there is more to it than just coming up with creative ideas for a business. A creative agency can offer several services such as branding, marketing, design, and development. So if you're looking for a creative agency that's ready to help your business achieve its potential.
A creative agency also is a company that specializes in the design of logos, websites, brochures, advertising campaigns, and other marketing materials.
Creative agencies are usually contracted by their clients to create marketing materials from start to finish. This includes determining what the client needs and creating a strategy for how to meet those needs. Often agencies work with inbound marketing and content marketing strategies. Creative agencies typically have in-house designers and copywriters who can do everything from design a logo or web page to writing content for blog posts.
Content Marketing Definition
The idea behind content marketing is to create and distribute valuable, relevant, and consistent content to attract and retain a clearly defined audience–and then turn these followers into customers.
Content marketing is a proven way to generate leads and sales while improving customer engagement and loyalty. This type of marketing also has the capability of producing great results with low investment, helping it stand out from other forms of advertising.
We at our Green Mind Agency believe that "content marketing" has to be more than just copywriting or blogging. It's the way to maintain a constant connection with your followers. And it can be done through videos, images, presentations, infographics, product reviews, or even social media campaigns.
How Creative and Content Marketing is Transforming the Market
The Creative Industry in Egypt has been growing at a rapid pace. In a decade, it has established itself as a global player with a deep impact on the cultural and social aspects of daily life in Egypt.
Creativity is what drives humans to innovate and improve their surroundings. Creativity is crucial for any country's economy, but creativity in the Egyptian market depends on cultural diversity. It also depends on an understanding of Egyptian society and its needs.
Therefore, different creative industries have been emerging from the Egyptian Market such as advertising agencies, PR firms, digital agencies amongst others.
Creative designs will also take your eyes on the spot, being unique is important, since our agency is dealing with a lot of different brands. Creative advertising agency teams at tech companies tend to be split into product design and marketing design. The product design team works on the app, or the software, or whatever it is, and then creates digital marketing handles all other design-related stuff.
Latest Articles Related to Creative and Content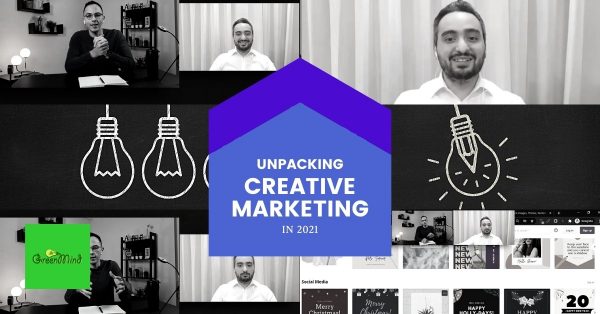 Unpacking Creative Marketing in 2021
21st Feb, 2021
In this interview with Digital over Coffee, we've tried to shed light on the creative industry changes in the creative ecosystem by 2021.
The Challenges in the Egyptian Market
Branding is one of the most powerful tools in the business world today. The first thing that comes to mind when people think of a company is its logo, color scheme, and slogan. As the graphic designer, you are communicating what your company stands for.
The company relies on us to nurture and protect its online presence. Being on-brand is key for any content marketing company. The blog posts, business logo, advertisements – everything that gets done – needs to be on-brand. This ensures that the customer receives what they're expecting and it also guarantees the longevity of the company because customers continue to come back time and time again for more content.
Are our UI and UX processes really necessary for social media? Ideally, they should be valuable to the company and look like they came from the same place. We must have multi-disciplinary skills as a creative digital marketing agency.
On-Page SEO Content Writing
One of the important aspects of SEO copywriting that we keep in mind is the strategy behind the article. There's a degree of thought involved in SEO content writing; if we want to write an article or create regular content, it's very important to include valuable SEO research. This technique will make sure our content reaches all search engines and rank higher over time this will make your pieces flow together, imagine an article writing service that blends SEO & copywriting. The result will be awesome!
We Are Doing This to Generate Revenue
Our goal as a creative agency is to communicate the brand's marketing values with everything that you do and think about the impression that your designs give to people looking at them. Our job as a brand designing company is to make people love and respect the brand through everything we put out.
Your user might not realize they need the thing you're selling until they get to the next stage of their journey. Those key moments are really important, so think about how your product can fulfill what they want
Most of our clients want to start with the company logo design and it often takes them a few minutes to provide us with an actual brief, which makes it hard for us to usefully start. If you do not know how the company operates, what is their business goals or even its target audience, it will be that much harder to provide you with a good digital marketing strategy.
Keep things local is a great strategy for creative materials, add your local address, city, and country to let visitors and users know you are in the same region they are looking for. This will boost your location against competitors.
We are merging creative materials with content marketing to generate revenue for your business. We will drive traffic to your website by attracting customers with high-quality creative content materials like video ads, infographics, or blog posts.
Latest Projects from Our Work