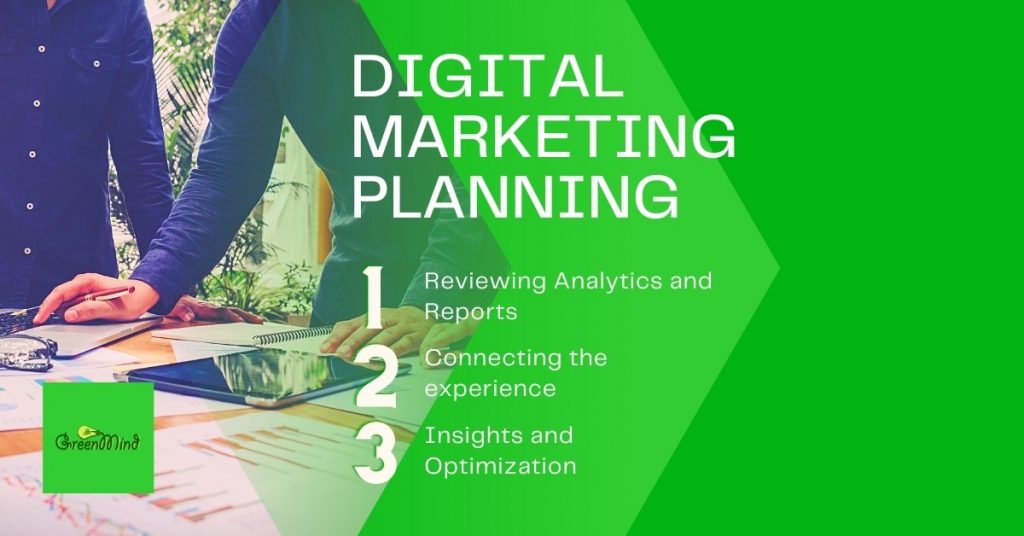 How are you planning to get sales for your digital marketing?
After reading these steps the answer will be yes, we started by numbers and numbers will never lie, the below marketing plan steps are solid and customized for each brand or service.
Our model is simple to start on big projects and to reach a great goal that all clients are expected from us. simply we start with the below graph model, how the digital marketing planning work.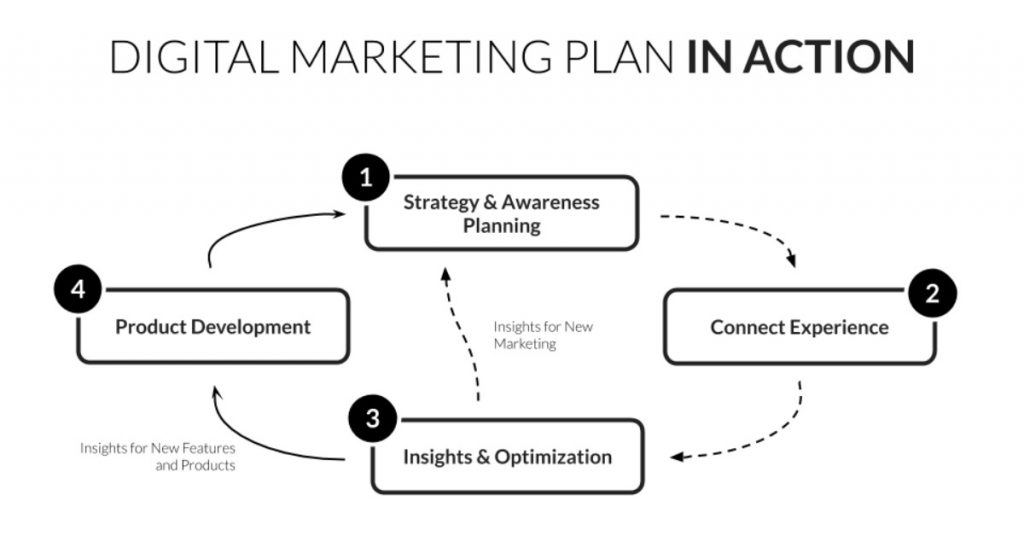 Reviewing Analytics and Reports
Before digging into any project we must find the reports, make market research and analysis, we love numbers, so we rely on them.
Internally we developed a lot of tools to get the competitors list, market position, get all the information needed about the brand before getting our hands dirty.
Connecting the experience
If something works for the competitors it does not surely mean it can work for you, and our agency understands that, understand your competitor's growth and experience used are important for us and for your business.
Website Design and Development
Don't skip this step and say, "Okay I'll have a Facebook Page to do the Job" No, please bear your mind to us when we say no.
Website is your main and cozy home, everything else should end to your website, if you built a campaign you must build a website and spend time and efforts, we already have a stunning WordPress website with a  perfect SEO optimized code and easy to use admin panel, check it we offer this for you because we understand the importance of it.
Select the Best Social Media Channel
B2B business is different than B2C, if you are targeting teenagers, then TikTok can be your place, and so on…
We think about where your audience is and select the channels based on this, if Linkedin is important for your business why not we are only focusing in there.
Email Marketing and Blogging
After building the website and start posting on social media channels we will have an audience, the audience that will like our content and follow our brand, that why we can start converting them to leads by email marketing campaigns and blogging, convincing them to get the action and buy our service/products.
Paid Advertising and Leads ads
Here the important part, we have to boost our content and execute them to reach more and more potential clients, and as we did for selecting the social media channels that can fit our audience, we are also selecting the best Media Buying Channel to put our budgets in.
We will list the top list the media buying channels that can be used:
Google Ads

Display Ads
Adwords
Youtube Ads

Facebook Ads
Instagram Ads
Twitter Ads
LinkedIn Ads
TikTok Ads
On this page, you will find all the Online Advertising models we can provide.
Search Engine Optimisation
We usually ask our clients to take care of their SEO and if not we are the most reliable agency that can handle SEO and understand how it works.
Search engine optimization techniques we simplify it on our SEO related here. Search engine optimization for Google is a long-term plan and needs a combination of SEO success factors to get your website in the top search results.
Partner with companies
Partnering with companies that share the same optional customers is also part of the marketing plan.
Insights and Optimization
After executing the plan, we have to read the results, are results moving in the right direction? or need to be changed? Our agency providing a dynamic Live report for all analysis and insights on the website, social media, and paid ads, to track all the performance.
Related Topics For Marketing Strategy
Marketing Strategy Pricing Packages
Understand the KPIs and goals before paying, we will also guide and optimize the plan and resources to make the best use of your digital marketing strategy, check our pricing packages from Prices Page.