Egyptian Clients Want to Get More
The Egyptian client is always looking for something new from our side and usually wants to know the details and new updates about their industry, as well as in developing their business and standing for competitors.
Our role in this matter is very important, we consider ourselves as part of the client company to maintain the performance of online presence.
The client also trusts us to give other feedback about things that we are not responsible for. for example, if we are handling only SEO, we can give ideas on how should social media content be aligned with the blog content we already write on the website.
Digital Marketing Is Connected
If our clients give us a chance to cover all social media services for his brand we have to give a full picture beyond the services we provided, we give reasons and why we focus on some areas in the marketing strategy more than others.
We understand digital marketing is a connected cycle, if we did something on social media it will reflect the website, and also reflect the cost per results for leads, and organic results also can affect the website bounce rate and so on.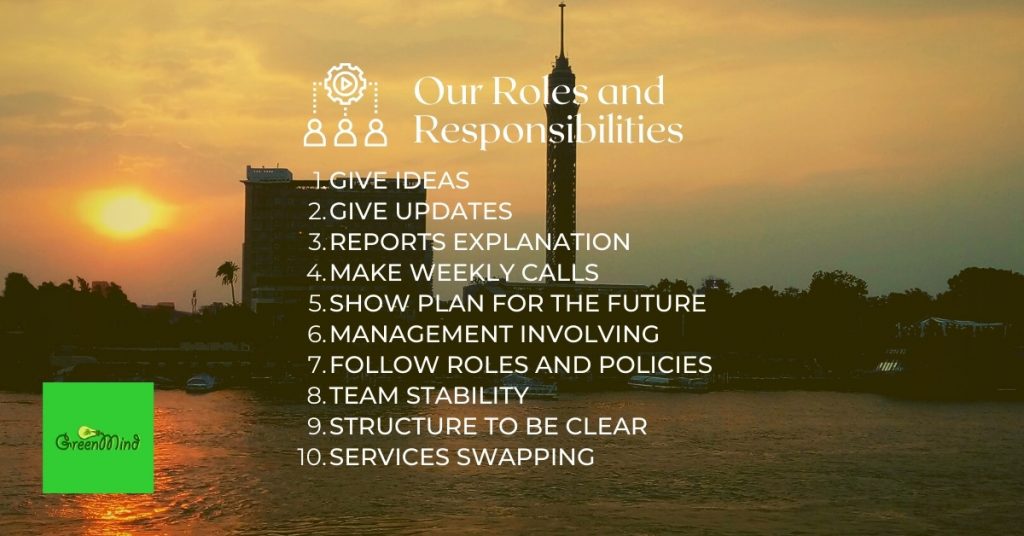 Our Roles and Responsibilities
#1 Give Ideas
The first important responsibility is to give ideas, the client doesn't want to just execute things and wait for results, they are expecting us to be responsible for producing the ideas themselves, the client in the first place deal with us to take responsibility for digital marketing that we can handle professionally and without wasting more time with us as an agency to follow the work produced.
#2 Give Updates
We always keep our clients updated, every day we give a quick overview of how things are done, this will give the client a good indicator about our agency how we are committed to getting things done with efficiency, this type of high communications also can let the client give ideas and approvals quickly if they something urgent or need to be fixed.
#3 Reports Explanation
We love Math, we love also graphs and Google Sheets!
We love to show our clients how we can read numbers and get the right direction if there something good happened like we received more impressions from google organic results we have to raise this, we have also to raise how many conversions coming from that organic results.
We are explaining everything, the good and bad graphs to make decisions with our clients on the spot.
#4 Make Weekly Calls
Yes, make weekly calls is a responsibility, calls interactions are better than anything else, when all-time joined in we can quickly reach good calls and make things transparent for both sides.
#5 Show Plan for the Future
Our clients also want to know where we are going for longer-term, based on graphs indicator we can also decide long term plans. usually, longer-term plans are for SEO and website structure plans.
#6 Management Involving
Do you know that our CEO is joining all calls
Yes, our CEO is joining every call that we have, he is also giving the pitch presentation for our clients, his involvement is an addition for our clients and the industry too.
#7 Follow Roles and Policies
Every client has policies we must follow, each client also has his own policy for how to handle the business and how to share it, the brand image is also our responsibility to be protected.
#8 Team Stability
This is a management responsibility, we must give a stable team to handle clients business, we can't keep hiring new people to join the same project, the management team usually keep employees as stable as possible with the clients.
#9 Structure to Be Clear to the Client
The client also wants to know the team structure, and understand who did what, if for example has a problem with the moderation on social media who's responsible for it to take with him/her directly, we also have a complete post about the digital marketing agency team structure, you will get more details how it looks like.
It May Be Interesting to Check This!
Learn More About
Digital Marketing Agency Structure | How It Looks?
Through our long experience in the Egyptian market, we will go through our digital marketing agency structure ​and how it works.
Learn More
#10 Services Swapping
Our responsibility also is to give transparent feedback if the service we provide didn't go well with justification, or if we can swap it with other services. for example, if Google Ads doesn't work well and close more than expected, we can switch to LinkedIn ads or google display ads.
Selected Projects from Our Work