Win the Deal
After our success with UNLOCK in SEO by providing excellent solutions to them, we were able to gain their trust and we were able to win a new client, LOGIC Consulting.
LOGIC Consulting is one of the most successful and famous consulting companies in the field. They have been in Egypt for about 25 years and have their work in Egypt and some Arab countries. We committed to give a very special price offer for them and were able to win the customer and write long-term contracts to improve the site in the search engines.
We also involved the revamp of the website and host it on our servers, we offer this project at a very competitive price, which is why we are considered one of the best consultancies in this field.
We Are Experts in SEO
Our agency is an SEO agency with a proven track record of success, providing affordable and sustainable SEO services since 2014. We work on your goals and build a clear plan that's easy to understand and delivers results.
Our diverse team of experts uses their knowledge of the latest SEO techniques to provide you with the best possible results. We know the ins and outs of Google algorithms so we know how best to achieve your goals!
We believe in honesty and transparency, so you know exactly what we're doing on your behalf and how it will help you get ahead.
SEO
At the beginning of our work with LOGIC Consulting, we were able to identify the main problems on the website and let us understand how to fix the first website in technical issues. We were able to improve the performance of the website by creating more optimal web pages with less coding that loaded faster on the website, fixing technical issues, and some sort of optimization techniques.
Onsite optimization
We started also working on the website with a few different tools, and we were able to find out what was wrong with the website. For example, we were able to identify that there were some problems with Google Analytics data which made it difficult for us to measure how users interacted with our site. We also found that there was unnecessary code in several places on our WordPress site, making it hard to maintain.
We also set up a Google Tag Manager account and started using that to see how to add new analytics tracking code without having to do it manually.
Starting in 2022, we identified the problems of the website, and this was due to many reasons, including:
Pictures that are large and not optimized
Problems with the code and not using lazy loading
Website cache problems
Not setting goals correctly on Google Analytics
Do not use javascript and CSS compression
Problems with the content appearing correctly and the frequent use of the accordion
These are not many other issues, including:
Meta Description and Tags Description
URL Resolve
XML Sitemap
Image load speed
We succeeded in fixing all these problems within 3 weeks, and the site seemed better than before, and this made the client very happy with the quick result in a short time. We also gave the client a nice, clean, and effective report with all the changes listed, which made it nice and easy for them to understand the changes and to review and approve them before we started the next stage.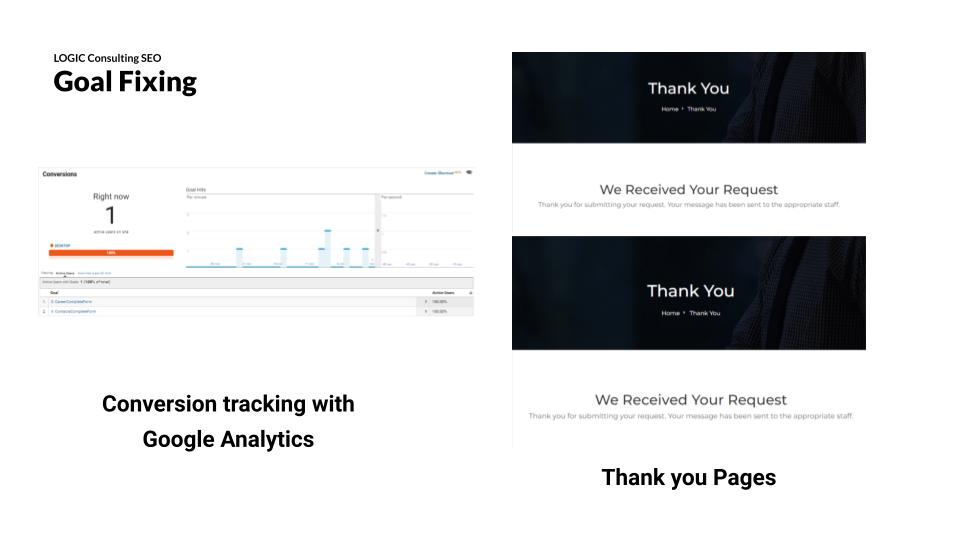 Keyword research
We identified 260+ keywords and were ranked according to their strength and how many times they appeared in Google searches per month, and this allowed our client to identify the important words and began to arrange them in order of importance.
This is always what we do with every client. We start with the keywords that have a large number of search queries per month and are the easiest in the competition to start gaining advanced positions in Google search results. This is our primary strategy and will be used on the vast majority of keywords we pursue in SEO.
We use this strategy because it has resulted in high click-through rates and high conversion rates, particularly when combined with well-written content and relevant backlinks.
This is an important step in any SEO project, identifying the keywords that will bring us success. If we want to rank for our target keyword, it's important to understand what people are searching for and why. It is hard work but with consistent effort, we can succeed.
Based on these keywords we succeeded to generate more than 1000+ long tail keywords and ranked in the top 3 in most of them.
Content
Writing content is the main step in SEO after fixing technical issues and defining keywords. It is a step that unites the effort to make sure the content appears distinctly based on the desired word.
We only used one word per page and this is the correct way to use such words and try to rank them together, and we split the content into more than one category, keywords will be used on:
Home Page
Services Pages
Blog Pages
Internal Pages (Like About and Content Us)
In the field of consultancy, we understand the importance of every word that you write on the website. We, in turn, started writing the content in a very professional way, and of course, a large percentage will be ready for publication directly, and it does not take a long time for the client to agree to it.
Client-based services are an extension of our expertise, which is why we would focus on the topics like industrial and business consulting services, coaching, career growth, strategic planning, and more.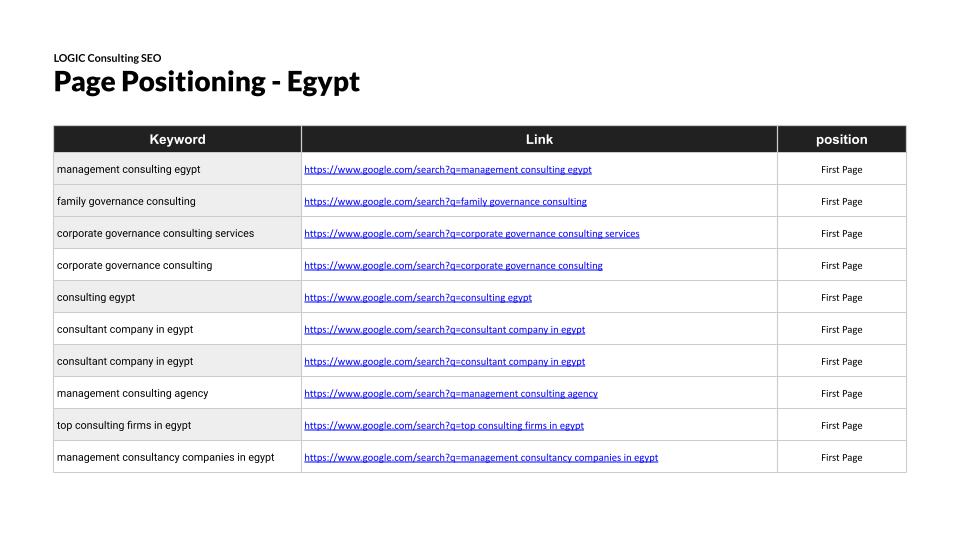 Offsite LinkBuilding
Of course, backlinks are among the basic prerequisites in our SEO work. To do this, we can connect to free websites, news, and blogs that exist. We are creating a group of sites where we can put the LOGIC Consulting websites. We consider backlinks to be one of the basic steps in SEO, but they are not important. If we, as a company, do not have suitable free websites on which we place our client's website, we will wait a little while to choose these websites carefully.
The next factor in the process is social media. We can take advantage of social media by writing company and customer reviews, posting pictures, and sharing links for our blog content and services pages, this can be done by sharing content on Facebook, and LinkedIn pages. By doing this, we can increase brand awareness for LOGIC Consulting. As a result of generating activity on our Facebook page, user engagement increases, and more people click on the links to go through a website.
SEO Results
We succeeded in gaining the first-page position on Google for all the below keywords and most of the long-tail keywords:
management consulting egypt
family governance consulting
corporate governance consulting services
corporate governance consulting
consulting egypt
consultant company in egypt
consultant company in egypt
management consulting agency
top consulting firms in egypt
management consultancy companies in egypt
And for the overall performance:
For the Last 6 Months: Total Impressions increased by 78.86%
For the Last 3 Months: Total Clicks increased by 4.87%
For the Last 3 Months: Total Impressions increased by 18.24%