Our unique approach to manage social media accounts
With a strong social media content plan, the KPIs here is to generate leads with low cost as we can through all social media, the key to build this content creation for social media is to play on the emotion of the investors.
With creative designs and understanding the principles for how to do social media marketing we built engaging posts for social media to catch the people's eyes that really have the budget to invest in another country, we understand it's hard to be reached, but we reached the target flawlessly.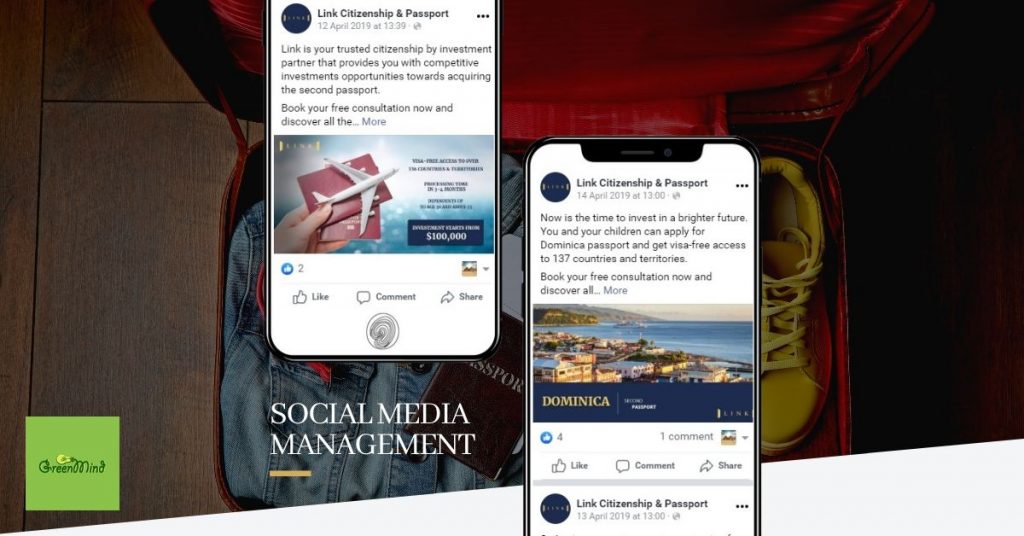 Recommended social media tools we agreed to work with
We guide the client and flag the importance to present the service in more than one social media channel, this will allow the story to complete, creative designs are built-in all formats, Images, Video, and GIFs.
We focused more on the videos for social media post design. These videos give us control of the brand and show the best emotional activities.
We have been so focused on the culture of the clients in order to eliminate non-potential clients. We managed Facebook, Instagram, Twitter, and LinkedIn pages. We designed attractive content starting with posting ideas for Facebook for approvals and social media and then posting for other social media.
One of the KPIs is to increase Instagram engagement, and we used photos of nature to show the cities and playing on emotions that life will change after your investment there, We have been so active on social channels in order to be visible to users.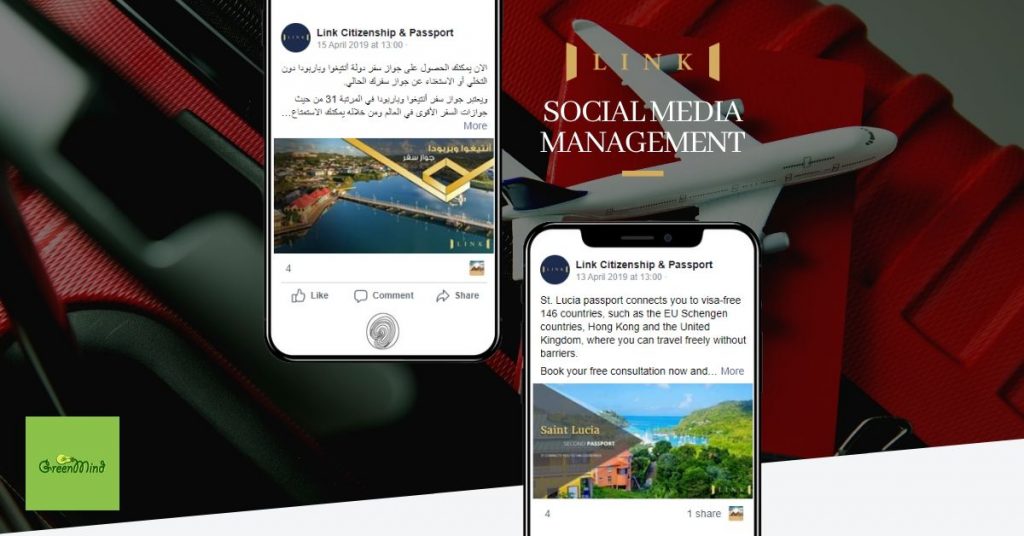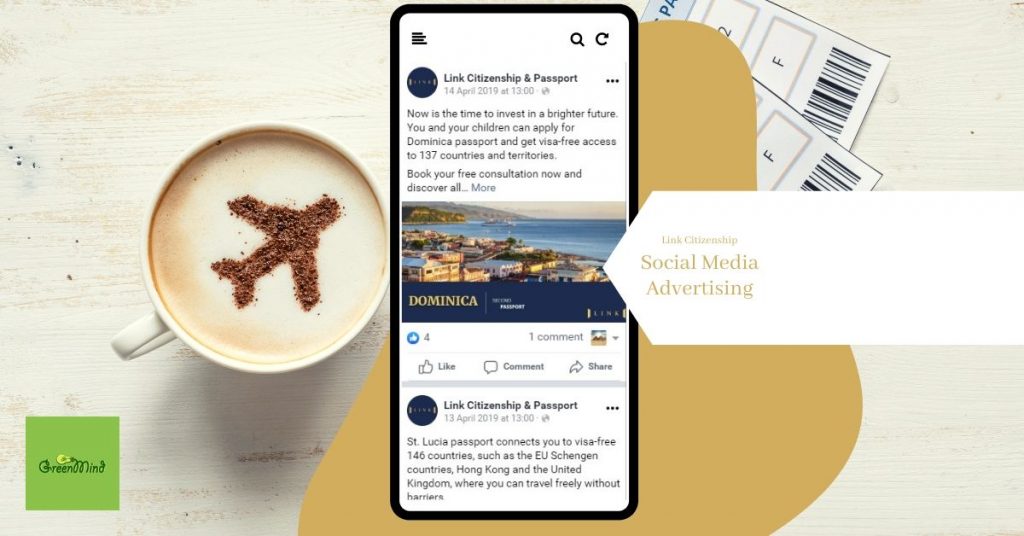 Facebook Ads
We used various types of social media advertising to achieve real Leads generation results through Facebook Ads, and Instagram Ads.
How to reduce social media advertising costs as minimum
We are using digital and social media marketing to drive engagement, leads, and revenue, the campaign objective is to get more leads, reducing the CPC and CPA "cost per result and cost per action" as minimum as we can is our main target.
We built a strong social media marketing campaign with a clear and aligned social media marketing plan with the client's need, by getting qualified and potential leads, to start investing in foreign companies to get the dual passport.
We guarantee a 45% reduction in the costs per lead, compared to standard ads and we achieved that with a quick trick. We made a radio button in the lead form to check that you have the amount of money that will help you to invest.
Facebook Leads, and Instagram Leads Ads
80% of the social media marketing plan is set to Facebook and Instagram leads ads and start posting ads on Facebook, we used our internal Facebook ad account to handle this project with the minimum % fees of management. Social Media ads for this type of business are based on the right targeting.
To solve the targeting challenge we used:
Facebook Pixel
Lookalike method
Eliminate uninitiated users
We used the same techniques for Instagram ad targeting, and this is reflected in Instagram ads cost per result.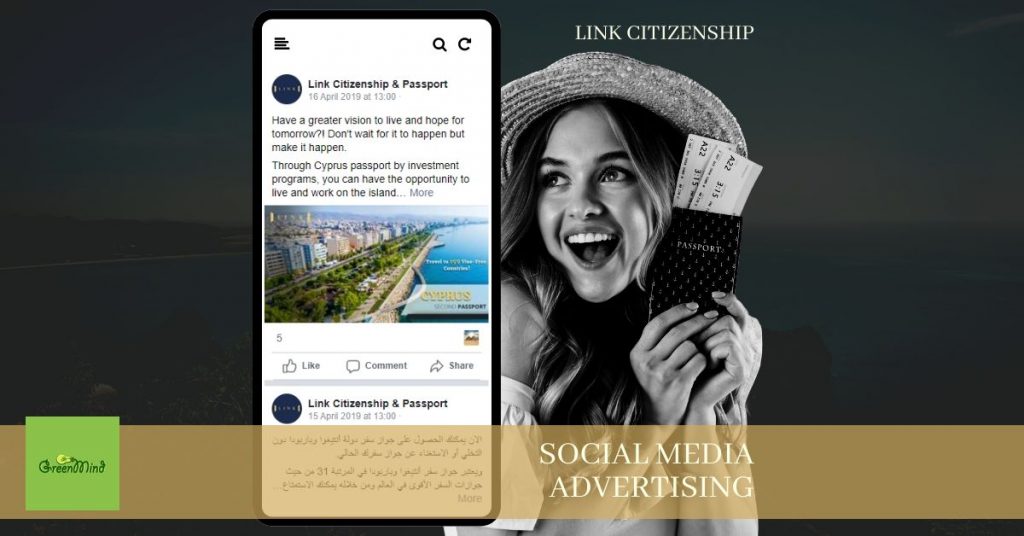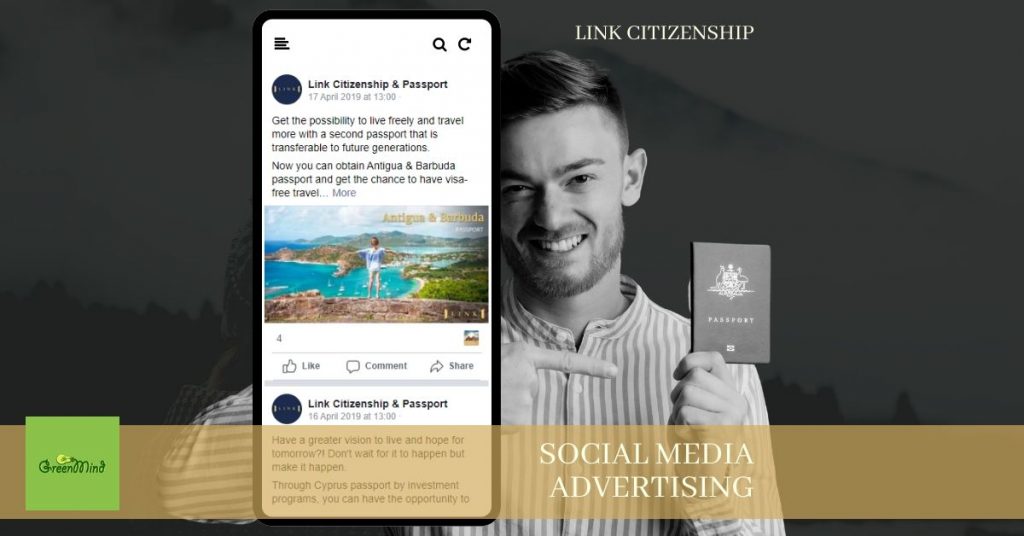 SEO Work for Link Citizenship
We provide professional data-driven SEO services, our work as an SEO agency is to drive qualified leads and submissions to join the program.
Improve your rankings is one of the top benefits of SEO
SEO means to be on the #1 page of google search for the desired keywords, Our affordable SEO prices help Link Citizenship owners to rank higher in search engines, which in turn helps bring more qualified leads for the website.
We started by analyzing the current SEO situation for the current website, defining the technical issues on it, we fixed:
HTTPS Security. Site security with HTTPS is more important than ever
Site Indexed Correctly
Execute and publish XML Sitemaps
Fix Missing or Incorrect Robots
Slow Page Speed
Incorrect Rel=Canonical
Website Title, Description, Schema, and headings
With also changing the content to follow the most demanded keywords, this strategy has the potential to make a huge impact on the Link Citizenship website.
Best practices in SEO to handle developed website from another agency
The website was created by another agency. We took the authorization to change the content as our research, our communications must be clear to handle the website not created from our side.
We are using the best free SEO tools to find keywords for SEO which is "Google Keyword Planner" it's our main free tool to make research and understand the business's desired keywords.
Other free tools like:
GTmatrix
WooRank
Website Grader
Google Page speed
Byte Check
These 5 websites are free and will get the 95% technical issue if it will solve and boost the content to the best.
Analytics, Google Search Console, and basic google SEO checker
One of the important SEO tips here is to track the results with more than one tool, especially if it's under the same umbrella of Google, we have been using Google Analytics to get a full overview of the website analytics, Google Search Console to get the best keywords we are ranked on and how to solve the position rank if it's lower than 10 "second page".
Finally, a very quick basic google search check with google chrome incognito window gives us a very great final result in google search.