Introduction
Green Mind Agency, a leading digital marketing agency in Egypt, took on an exciting project to enhance the online presence and visibility of IVY STEM International Schools. The goal was to attract more students and parents to this prestigious institution that offers a cutting-edge STEM-focused curriculum and prepares students for a successful future.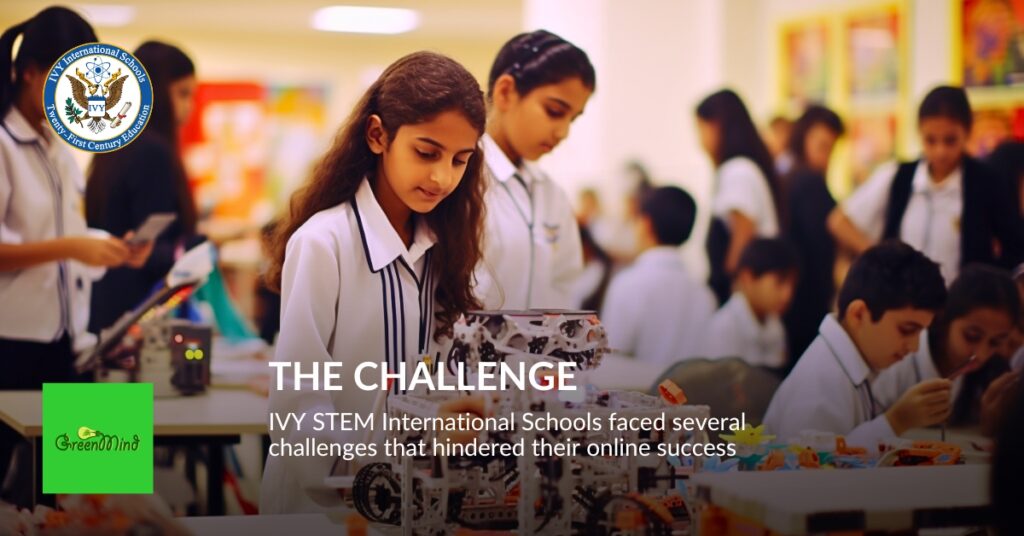 The Challenge
Before the collaboration with Green Mind Agency, IVY STEM International Schools faced several challenges that hindered their online success:
Low Visibility: The school's website was not ranking well on search engines, making it difficult for potential students and parents to find relevant information about the institution.
Lack of Targeted Keywords: The website lacked relevant keywords, making it challenging to attract organic traffic and reach the right audience.
Limited Content: The school's website had limited content, which affected its authority and credibility in the eyes of search engines.
Ineffective Backlinks: The backlink profile of the website was not optimized, leading to missed opportunities for better rankings.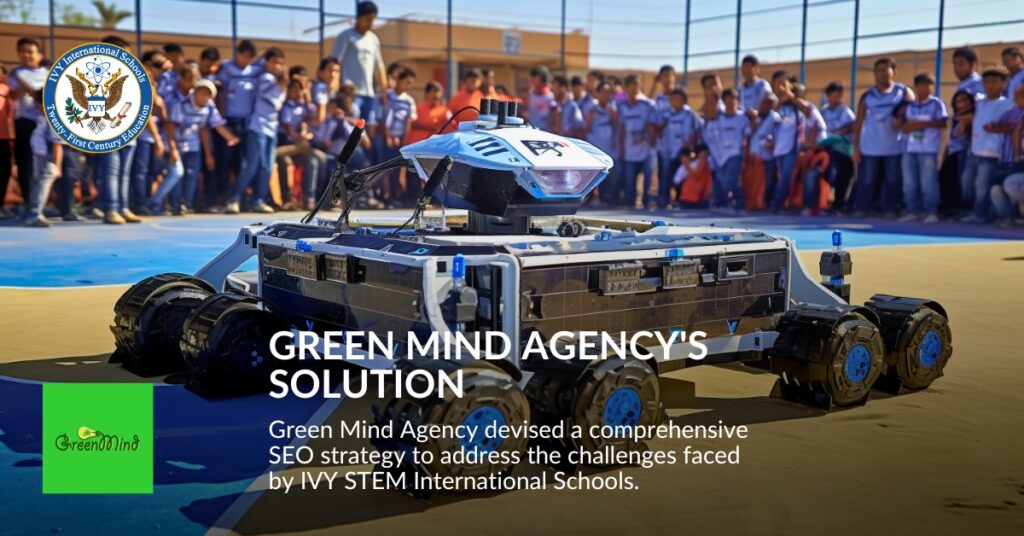 Green Mind Agency's Solution
Green Mind Agency devised a comprehensive SEO strategy to address the challenges faced by IVY STEM International Schools. The strategy included the following key elements:
1. Technical Website Audit and Fixes
The agency conducted a thorough technical audit of the school's website to identify and resolve any underlying issues. This involved optimizing page speed, fixing broken links, and improving the overall user experience.
2. Keyword Research and Optimization
Extensive keyword research was conducted to identify relevant terms that potential students and parents were searching for. These keywords were strategically incorporated into the website's content, meta tags, and headings.
3. Content Creation and Blogging
Green Mind Agency implemented a content creation plan to regularly publish informative and engaging blog posts related to STEM education, academic excellence, and student success stories. This approach aimed to attract and retain visitors while establishing the school as a thought leader in the education industry.
4. Backlink Building
To enhance the website's authority and credibility, the agency focused on acquiring high-quality backlinks from reputable educational websites and other relevant sources. This approach not only improved the school's search engine rankings but also brought in referral traffic.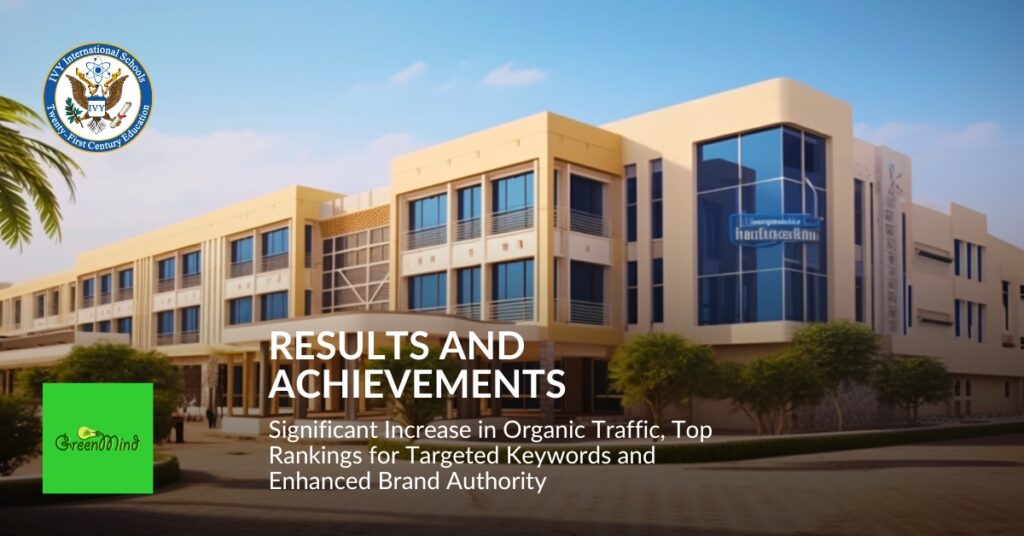 Results and Achievements
The collaboration between Green Mind Agency and IVY STEM International Schools yielded remarkable results:
Significant Increase in Organic Traffic: The SEO optimizations led to a substantial increase in organic traffic to the website, with a notable rise in the number of inquiries and applications.
Top Rankings for Targeted Keywords: The strategic use of targeted keywords allowed the school's website to rank higher on search engine results pages (SERPs), making it more visible to potential students and parents.
Enhanced Brand Authority: The consistent publishing of high-quality blog posts and backlink-building efforts improved the school's online authority and positioned it as a reputable institution.
Boost in Enrollment: As a direct result of the improved online visibility and reputation, IVY STEM International Schools experienced a significant boost in student enrollment.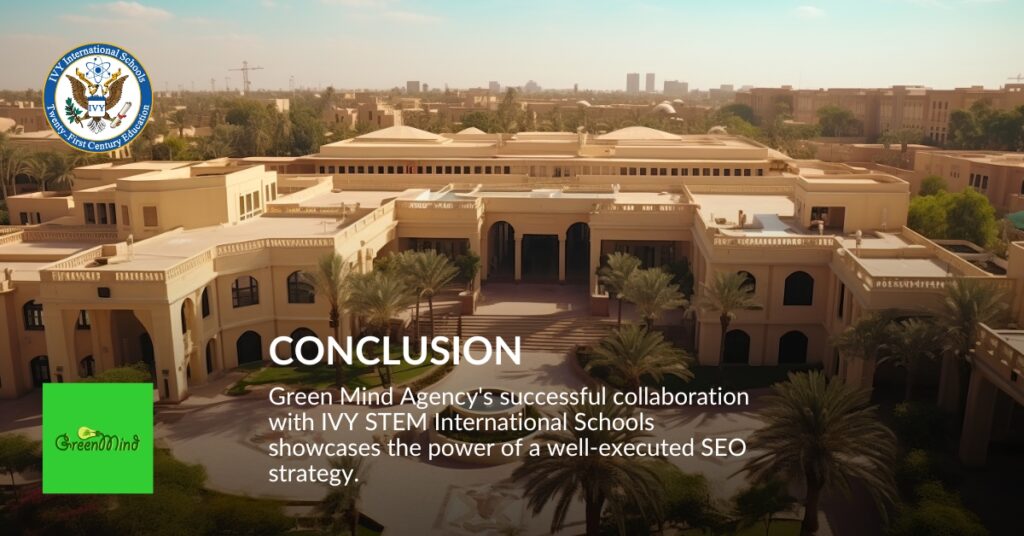 Conclusion
Green Mind Agency's successful collaboration with IVY STEM International Schools showcases the power of a well-executed SEO strategy. By optimizing the website, creating valuable content, and leveraging social media, the digital marketing agency significantly enhanced the school's online presence, leading to increased enrollment and a stronger brand reputation.
With Green Mind Agency's expertise, IVY STEM International Schools continues to shape the future innovators of tomorrow by providing a top-notch STEM education that prepares students for a successful careers.
SEO Performance
146
Ranked Keywords in The First Page
FAQs
Prior to our engagement, the IVY website suffered from poor search engine visibility. It had limited organic rankings, low website traffic from search, and the content was not adequately optimized for relevant keywords.
We devised a comprehensive strategy: conducting a thorough SEO audit to identify issues, researching and selecting target keywords, optimizing on-page elements, improving internal linking, creating high-quality content, and building authoritative backlinks. These steps aimed to enhance the website's online presence.
We analyzed the website's pages and their content. For each page, we optimized meta tags (title, description, etc.), improved heading tags, and ensured keyword integration within the content. This on-page optimization helped search engines better understand the website's purpose and content.
High-quality content is the cornerstone of any successful SEO strategy. For IVY, we identified target topics based on user intent and search trends. Our team created engaging blog posts and articles, incorporating relevant keywords naturally. This not only attracted organic traffic but also increased the likelihood of backlinking from other reputable websites.
We focused on a white-hat link-building approach. By analyzing the competition and the industry, we identified opportunities for obtaining valuable backlinks. These included guest posting on relevant websites, engaging in industry forums and discussions, and potentially reaching out to influencers for collaborations. The goal was to ensure backlinks were from trustworthy and contextual sources.
Over the course of X months, the IVY website experienced a significant increase in organic traffic. The number of keywords ranking on the first page of search results substantially improved, leading to higher click-through rates. The domain authority also increased due to the acquired high-quality backlinks.
Yes, there was a notable improvement in ROI. The increased organic traffic and enhanced online visibility led to more lead generation and conversion opportunities. The client saw an overall positive impact on their business metrics.
While the core principles of SEO apply universally, each website is unique. Strategies must be tailored based on the industry, competition, target audience, and goals. What worked for IVY can be used as a foundation, but adjustments will be necessary for the best results.