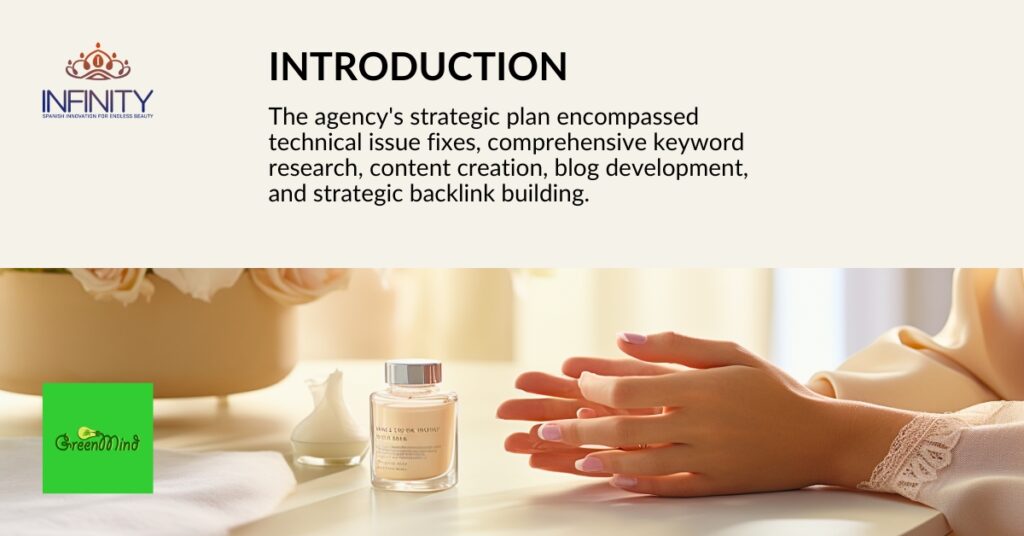 Introduction
Green Mind Agency, a leading digital marketing agency in Egypt, took on the challenge of enhancing the online presence of Infinity Clinic Pharma, a company dedicated to developing, manufacturing, and commercializing skin & hair care products, including dermo-cosmetics and nutraceuticals. The agency's strategic plan encompassed technical issue fixes, comprehensive keyword research, content creation, blog development, and strategic backlink building.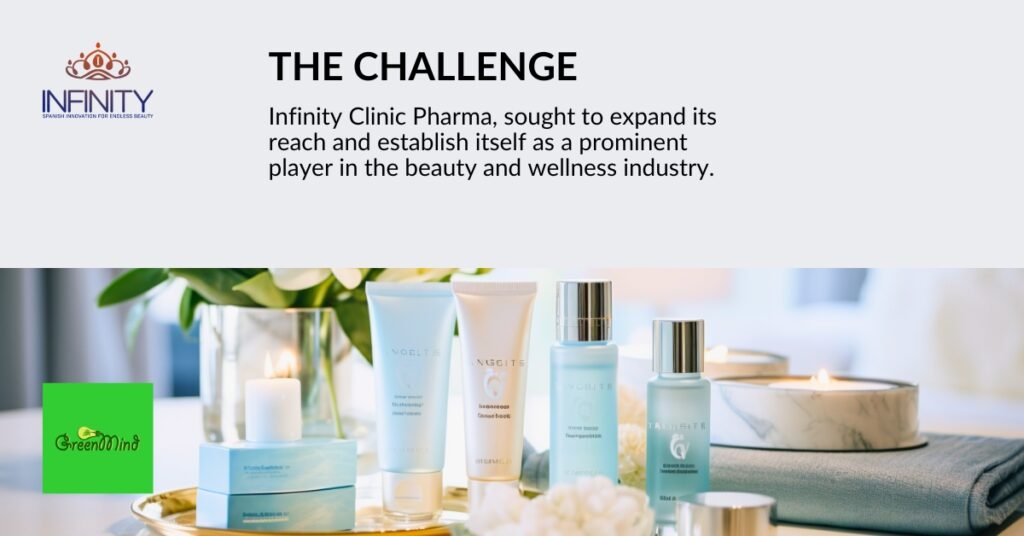 The Challenge
Infinity Clinic Pharma, previously known as a scientific office for Egyptian company for cosmetics "ECC," sought to expand its reach and establish itself as a prominent player in the beauty and wellness industry. To achieve this goal, the company needed to improve its search engine rankings and visibility to attract more potential customers and enhance its brand reputation.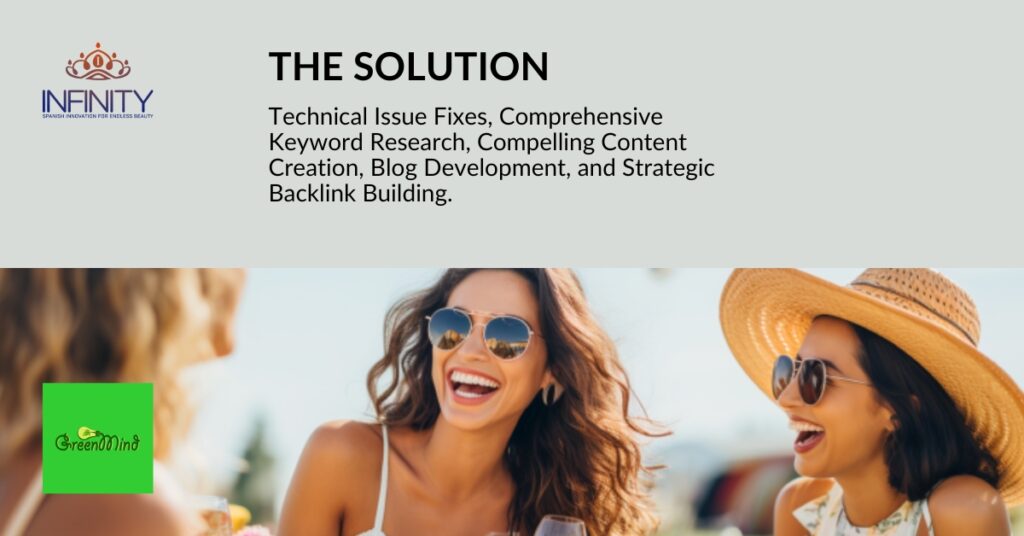 The Solution
Technical Issue Fixes
Green Mind Agency began the SEO campaign by conducting a thorough technical audit of Infinity Clinic Pharma's website. They identified and rectified issues related to site speed, mobile responsiveness, crawlability, and URL structure, ensuring a seamless user experience and search engine friendliness.
Comprehensive Keyword Research
The agency conducted extensive keyword research to identify relevant and high-traffic keywords in the beauty and wellness niche. This process involved analyzing search trends, competitor analysis, and user intent to target the most valuable keywords for the client's products and services.
Compelling Content Creation
Green Mind Agency recognized the importance of engaging and informative content to attract and retain the target audience. They devised a content strategy that included blog posts, product descriptions, and educational articles related to skin & hair care, dermo-cosmetics, and nutraceuticals.
Blog Development
To establish Infinity Clinic Pharma as an authoritative source in the industry, the agency created a blog section on the website. They regularly published valuable content, tips, and guides to address common beauty and wellness concerns, driving organic traffic and increasing user engagement.
Strategic Backlink Building
Green Mind Agency implemented a robust backlink-building strategy to improve the website's domain authority and credibility. They acquired high-quality backlinks from relevant and authoritative websites, enhancing the client's search engine rankings and online reputation.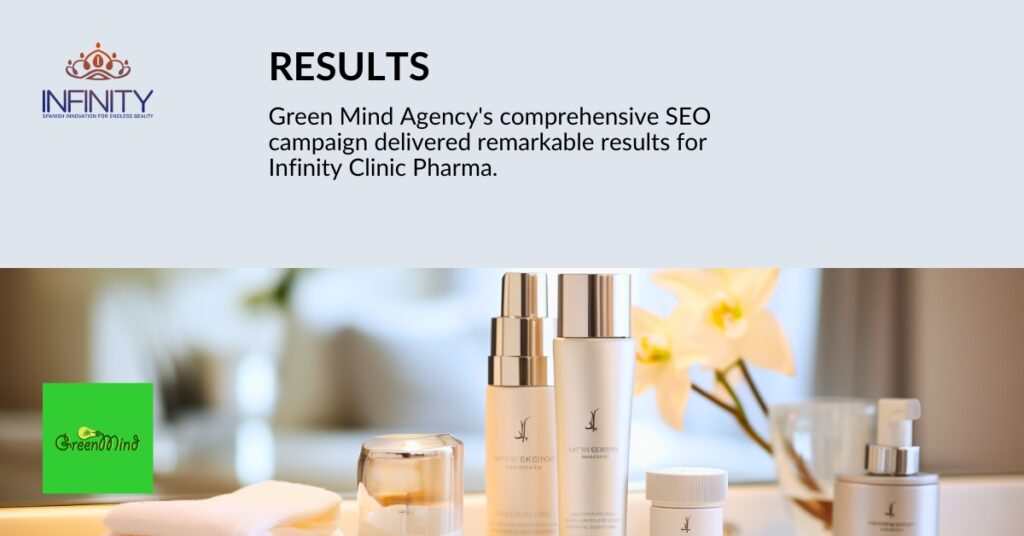 Results
Green Mind Agency's comprehensive SEO campaign delivered remarkable results for Infinity Clinic Pharma.
Significant Increase in Organic Traffic: The technical optimizations and targeted keywords led to a substantial rise in organic traffic, bringing more potential customers to the website.
Top Search Engine Rankings: Infinity Clinic Pharma secured top rankings for several competitive keywords, positioning the company as a leader in the industry.
Enhanced Brand Visibility: The strategic content creation and blog development efforts increased the brand's visibility, leading to improved brand recognition and trust among the target audience.
Higher Conversion Rates: The combination of relevant content and seamless user experience resulted in higher conversion rates, translating to increased sales and revenue.
Conclusion
Green Mind Agency's successful SEO campaign for Infinity Clinic Pharma exemplifies the power of a well-executed digital marketing strategy. By addressing technical issues, conducting comprehensive keyword research, creating compelling content, and building authoritative backlinks, the agency elevated Infinity Clinic Pharma's online presence and established the company as a key player in the beauty and wellness market.
FAQs
The initial results started to show within the first three months of implementing the SEO campaign. However, significant improvements were noticed after six months of continuous efforts.
Green Mind Agency's approach focuses on a holistic and data-driven strategy. They prioritize understanding the client's unique needs and goals, tailoring their solutions for maximum impact.
Yes, the SEO campaign contributed to increased website traffic, which, in turn, resulted in higher conversions and sales for Infinity Clinic Pharma.
Green Mind Agency follows a consistent content calendar and publishes new blog posts at least twice a week to keep the audience engaged and informed.
Absolutely! Green Mind Agency's expertise in SEO and digital marketing can be tailored to suit the needs of various businesses in the beauty and wellness sector. Their data-driven approach ensures measurable results for every client.
SEO Performance
168
Ranked Keywords in The First Page