Display Advertising
This huge online and display advertising campaign goes through all MENA region markets and countries, this also includes the #1 display advertising website in the MENA region Layalina.
The mission for the campaign of "Bold Taste, No Regrates"
The main mission is to target Youth, with the new brand new product with 2 new flavors form Pepsi, this needs a huge space for display advertising, sponsorship ads with a high level of creativity is our mission.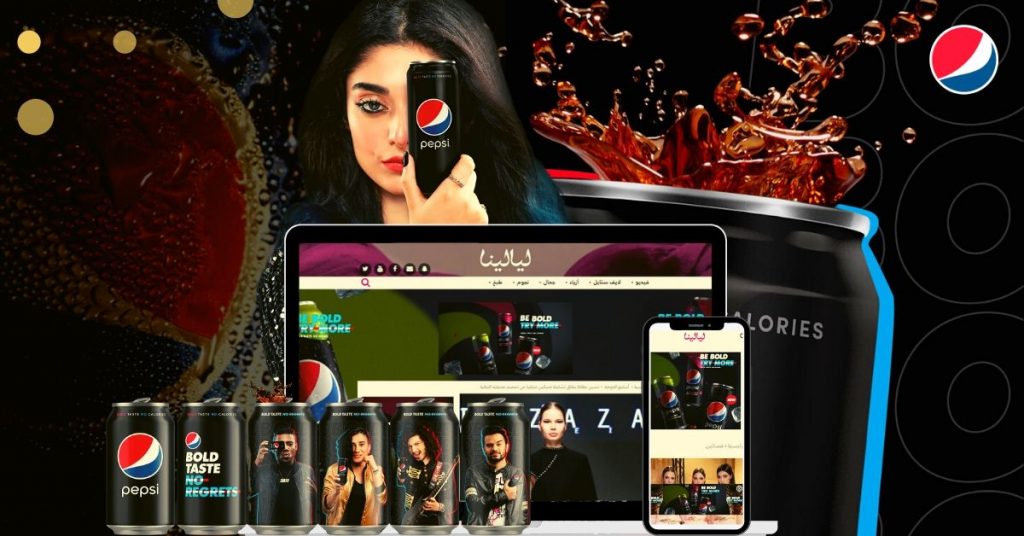 Execution for the Pepsi campaign with Desktop and Mobile skins
To keep things consistent, we created 2 related display advertising executions to cover the desktop and mobile users, putting the main commercial video ad in sensitive spots.
We also used the backgrounds to cover the area between the main content of the website and give the main creative elements popped.
Desktop Execution: https://tinyurl.com/yyq7wrk4
Mobile Execution: https://tinyurl.com/y6csp4nj
Display Advertising Solutions for our partner 7awi
Its diverse stable of international market and clients include some of the world's most important brands such as Pepsi, Sephora, DIOR, Loreal, Samsung, Fair&Lovely, Nissan, Nescafe, Nestle, Dubai Tv, etc.
Our strong Javascript, CSS and creative design for rich media ads using the latest tools have enabled us to not only achieve excellent online marketing but opened the gates for interactive marketing that reacts and changes based on the actions of individual customers and prospects.