Small Budget
We are fully aware of the problem of small businesses, which is the lack of a large budget to do the required spread, and this is the first secret.
Small Businesses will not be able to reach all the goals at once and here we start the plan for setting goals and dividing them into phases.
In other words, if you want to increase sales directly, we will reduce the awareness campaign and put a few budgets for awareness and the rest of the budget to increase the number of purchases, and so on so forth.
This method is considered one of the ways that will quickly reach your business to potential customers because the used budget cannot achieve all the goals, shortening the goals is the secret of the process.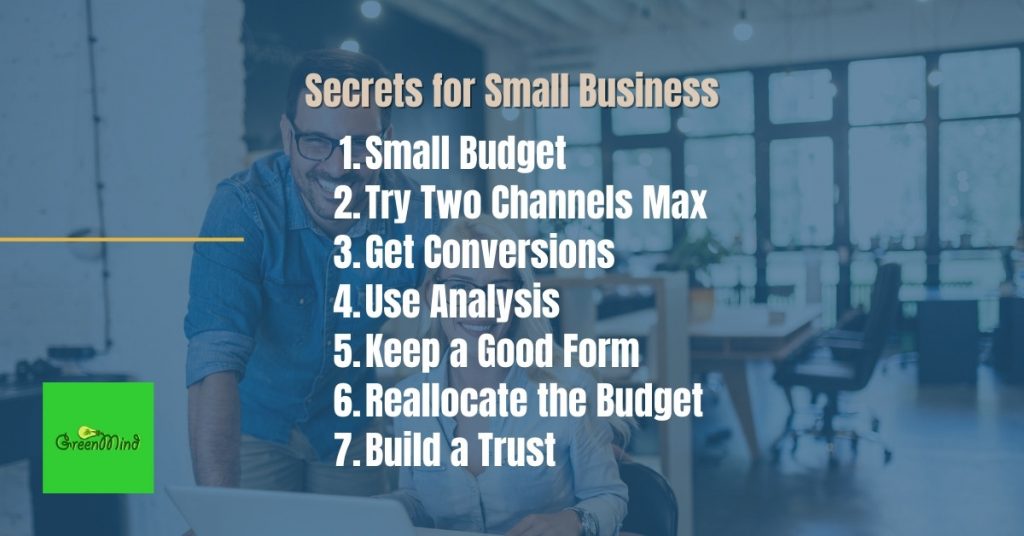 Try Two Channels Max
By channels here we mean the platforms that will be used to increase the spread. We recommend using one or two platforms as a maximum.
For example, if we find that we will rely on Facebook and Instagram only, we will continue to use them for long periods.
We will not be able to spend ads on all other platforms. In this case, the platforms must be chosen carefully from the beginning.
Get Conversions
When we start to get good sales, we do not get excited quickly. We are one of the companies that do not get deceived by quick sales in the first place. We thoroughly study each customer how the purchase is made and why the client will continue to use the service, from here we can determine the appropriate form of our customer to start developing and searching for similar and potential customers.
Use Analysis
We use a lot of analytics to determine the source of sales, so everything must be countable to be able to find the right customer. In our company, we have developed an integrated dashboard to help us and our customers also to determine the level of the campaign and its development.
Keep a Good Form
We must keep increasing the volume of sales, if there is a fall for a long time, it will affect the successes that we have made.
There is nothing constant, each quarter must have a separate plan, and we keep the momentum with the changes that occur constantly to maintain success for long periods.
Reallocate the Budget
Mistakes always happen and if we look at a small budget we will understand if we can reduce campaign mistakes we will get better results.
One of the important things, in this case, is directing the budget to the place that generates more sales, for example, if we know that Google Ads connects us with more customers, we will increase the budget on Google Ads.
Build a Trust
Our last secret is to build trust with our customers, we consider the field of work of our customers as our field, so we develop the entire system and not just from a marketing perspective.