Top Social Media Agency Egypt
As a leading Social media marketing agency in Egypt, we promise to reach larger and high qualified leads organic and paid, get ready, and join our growing list of regional and global clients. With our fully dedicated team, We Deliver What We Promise!
We are usually bringing more ideas and plan more than any other digital agency in Egypt, with our experience our quotation and presentation will usually pop up among other presentations you will get.
Launch your business with the top Egyptian social media companies in Egypt.
Social Media Marketing Mission
Our main mission is to make your social media profitable and to drive high web traffic leads. Your brand name is our responsibility through all social media channels starting with planning, strategy, content creation, creative designing, influencer marketing, and social media moderation.
Social Media Management Key Factors
Social Media Marketing Agency average prices usually effected based on the below key factors:
Company Experience
Existing clients
Number of Posts
Industry experience
#Numbers of social media
Custom vs. Template posts
Replies "Community Management"
TAT – turn around time for creatives
Flexibility – number of revisions
You can take the 9 same points above as steps to select the company that will handle your social media.
Social Media services we deliver
Social Media Management
As one of the top social media agencies in Egypt, we will amaze you with our services; from community management, moderation to content creation, sentiment analysis, we provide our passionate solutions for creativity and how we have a lot of ways and experience can reach yo to any high-level point of marketing.
Through these, we will deliver everything to the right audience, as we usually believe, connecting the experience to fit in your business is something crucial.
Creative Content Creation
Industries are different and we have top-level clients across Egypt and the Middle East that gave us all the experience needed to give you a magnificent creative and content creation.
We are also focusing on the language itself, especially Arabic writing, we understand to have good content is not only enough unless it's Grammarly right and has the right punctuation.
Planning & Strategy
Before we digging for any social media strategy, we plan everything well. we can't start working without giving a clear strategy for our clients and for your business.
We also provide along with the creatives and content are: Community Management, Sentiment Analysis & Optimization, Event Coverage & Activation ceremonies, Real-time Listening & Reporting
Company Experience
Our social media agency in Egypt experience expanding the consumer base by getting and maintaining the right buyers. We also have a huge experience in running paid social media campaigns and can assist you to boost your promotion ROI. We've always done our social media marketing in-house at Green Mind Agency, so it's easy for us to speed communication between you and us.
Existing client's
This is something really important to check the current and old client's that agency worked with, requesting a client list contacts to get feedback is also can add value, At Green Mind agency we provide that list usually at the start of the project.
Social Media agency still viable
Social Media management is not easy and it's important today, a lot of complicated tools and requirements are in there, and remember your time is available and you can't stay the whole day think about creating content, or marketing strategy or how to optimize the campaign, that means social media marketing agencies still a viable option for your business.
Social Media channels winning campaigns
Our Social Media Company in Egypt creates a Social Media Marketing Strategy first, then launch winning campaigns through Facebook, Instagram, Linkedin, Youtube, Twitter, Snapchat, and Recently TikTok. The Social Media market is fiercely competitive but our specialists know how to creatively design and implement content that can sharply target your audience by driving awareness, engagement, conversion with your brand.
Social Media Packages
Social media packages in Egypt start from 12,000 L.E. per month and it can reach 28,000 L.E. per month based on requirements, there's no concrete source of that but based on our research and communications. the average is always relying on business requirements, all prices based in Egypt.
Here, you can find all the full prices packages: bit.ly/greenmindgenericusd
Advantages of Social Media
Reach large audiences with low cost
Direct connection with customers
Paid advertising access
Performance evaluation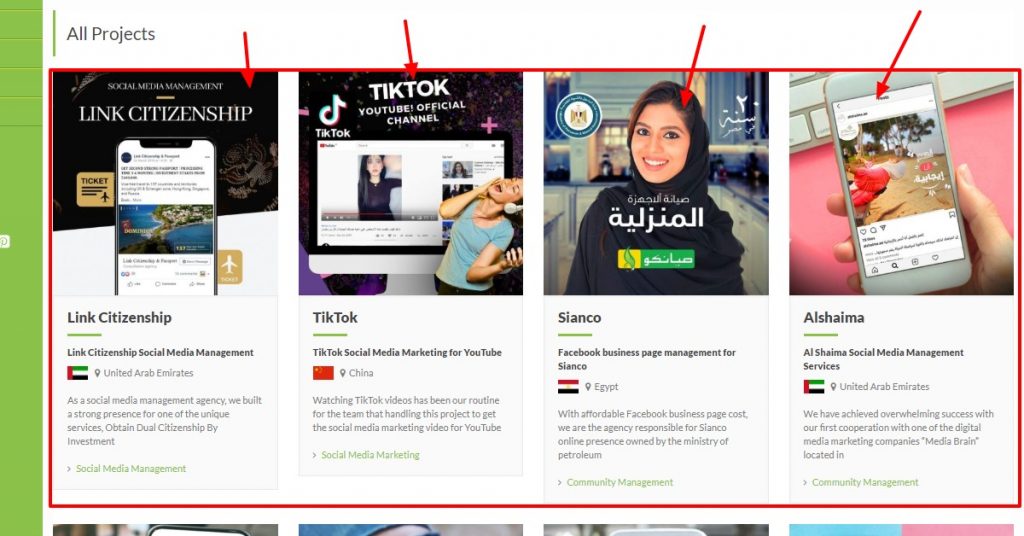 Social Media Agency Services in Egypt
Top 7 Social Media that we manage
Apparently, as a social media marketing company we can manage any of the existing social media channels or that new one will be created, every social media has its taste, and we identifying your niches:
Facebook – 2.23 billion
YouTube – 1.9 billion
Instagram – 1 billion
Tik Tok – 500 million
Twitter – 335 million
LinkedIn – 294 million
Snapchat – 255 million
By selecting the right social media channel that can fit on the industry, the below services list we can provide for any social media channel:
Social media marketing strategy and planning
Account creation and branding
Content creation and publishing
Research and analysis
Social Media Campaigns
Community management
Why Choosing Our Social Media Agency
Our capabilities in social media marketing are considered as the strongest in Egypt, our agency known in Egypt for speed and for providing the best community management, and we believe that you will consider more and more development from us in the field and leave an influential footprint in this field.
The number of marketing agencies in Egypt is quite large, grow your business through our social media marketing services and you will reach the highest rate of reaching your potential customers, we support you in all aspects of creating great ideas.