Google ads for real estate
Google AdWords is working by auction so the important factor is the bid price and also the quality score of the campaign and if you want to work on the quality score we definitely will check the website performance and technical issues to be fixed launching the campaign
Campaign Workflow
We start working on this by splitting the campaign's location and buyer needs including split by devices, based on the Google Analytics account we found the gap between users that using mobile or using a desktop so this is a change the way we are celebrating our users.
We're also working on different objectives because actually we can see that the click-through website and the conversion based campaigns including the phone number that people can talk directly to the sales or the customer services is showing very high demand users.
We are also selecting keywords that have a medium volume, not that very high with very high competition and not that very low with low search results, the difference between broad match phrase match and an exact match is important in such campaigns
Negative keywords
The important thing here is to use the negative keywords for real estate to eliminate the search for courses and unused keywords are not related to the client positional customers.
Campaign Optimisation
As we mentioned above the google ad extension is something important in such a campaign because actually the customer usually has very specific questions about the unit, and needs an answer from the real estate agency broker.
Improve the quality score we have used a lot of techniques which is fixing the landing page experience to be matched with the keyboards that the user's search for.
Campaign performance
Average CTR: 4.12%
Average Cost per Click: 0.42$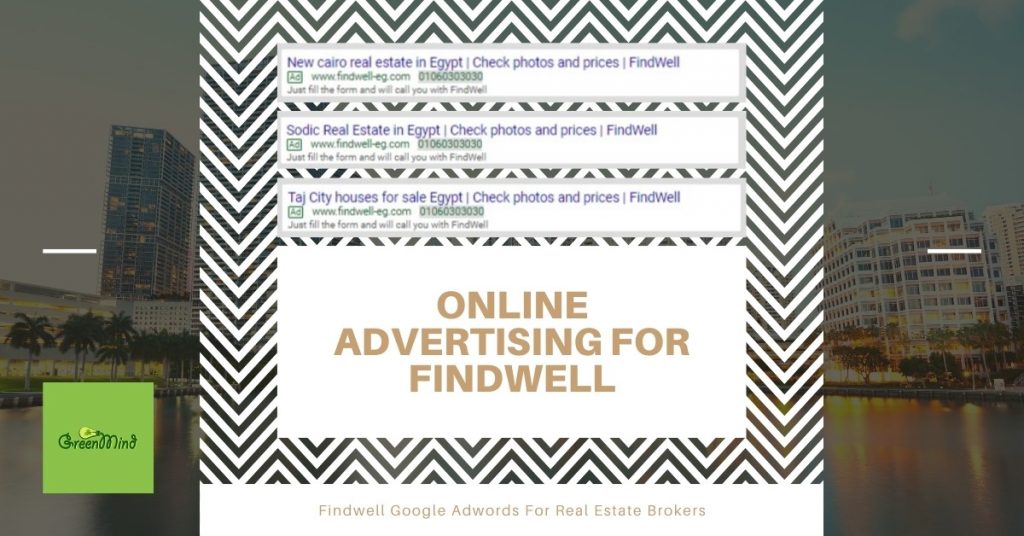 Facebook Hiring Campaign
We built this campaign for hiring salesperson, the target is to select the right salesperson "with experience" to join Findwell company, and we built this campaign based on the famous scene "Sell me this Pen" from The Wolf of Wall Street Movie, and another one as a generic post.
This campaign hits the right person directly and gives the HR team the chance to select the right salesperson to join the team. This campaign built on Facebook based on leads Forms with a minimal form questions.